About two weeks ago I was all poised to purchase our flight tickets to New York.  I had already found a great apartment on Craig's list to rent for a few nights in the city (which incidentally was an awesome way to do it.  way more $$$ friendly than a hotel and you get a real taste of the local flavor. oh, and the place was nicer than our house - like newer and completely remodeled.) and then we were thinking we would head to New Jersey to stay with Joe's brother Jake and his lovely wife Lisa so we could see what their life there is like.  But I wanted to run the final flight times by Joe before I hit the "buy" button.
He was already into his shift at work.  Sometimes that doesn't make for the greatest serious conversation environment - what with the radio and walkie-talkie going off with calls for service and people messaging him on his computer asking questions and stuff.  But that night seemed to be a little slow.  So I filled him in on what I had found.  And he was quiet.
I should probably point out now that the funding for this vacation was anonymously gathered and delivered to us - for us to be able to get away and relax.  I can't tell you how completely wonderful, surprising and humbling it made me feel to open up the envelope and see what had been so generously gifted to us. (THANK YOU if any of you who gave are reading this...)  The money would cover our tickets and lodging in NY.  I had figured that all the extras we would cover.
He finally said that he had been thinking that a trip like that wouldn't be very relaxing or romantic  - more like a family vacation staying with his brother and hustling here and there trying to cram all the sights in.  Plus, we would need to stick to a stricter budget - so hopefully see a show but beyond that try and be frugal.  He had been thinking that if we stayed in California and nixed the airfare, we could really, REALLY treat ourselves to something wonderful and completely pampering... like massages and room service.
Massages?!?!  Say no more.  I was in.  New York will still be there for another time.  Point me to the spa!
So that night I searched out quaint and cozy B&Bs and was thinking that it would be awfully nice to head down the coast to see Hearst Castle and stay in Cayucos or Morro Bay.  I have fond memories of vacationing there with my family for a few summers through Jr. High and High School and would love to share it with Joe.  But unfortunately most of the cute places were booked for the dates we needed.  So I expanded my search parameters and called Joe again and asked if he had any ideas.  He suggested Half Moon Bay, which isn't all that far from where we are and I was a little bummed because that meant there wouldn't be much of a road trip... and we have an awful lot of fun on road trips together.  But then I found
this place
and that melted away.   It just seemed so appropriate for what we were aiming for... besides, don't you think that the ocean is healing and soothing?  I sure do.  The beauty and vastness of it just completely reminds me of the bigness and thoughtfulness of it's Creator. 
Oh yeah, it's gonna be awesome!!  It feels so nice to look forward to something... 3 more days.  I think I can make it.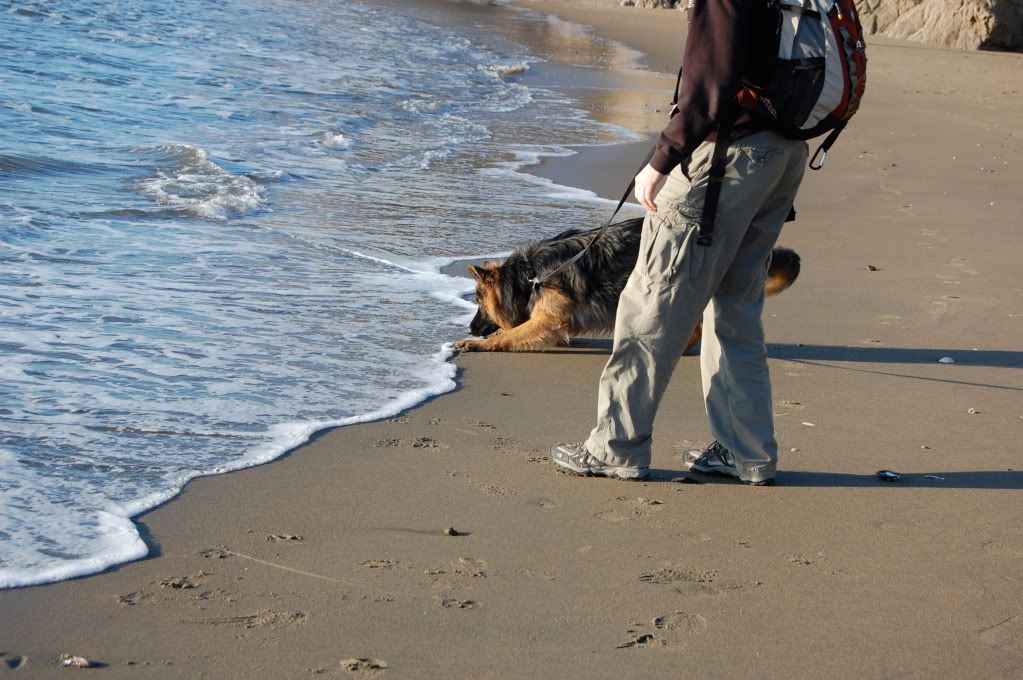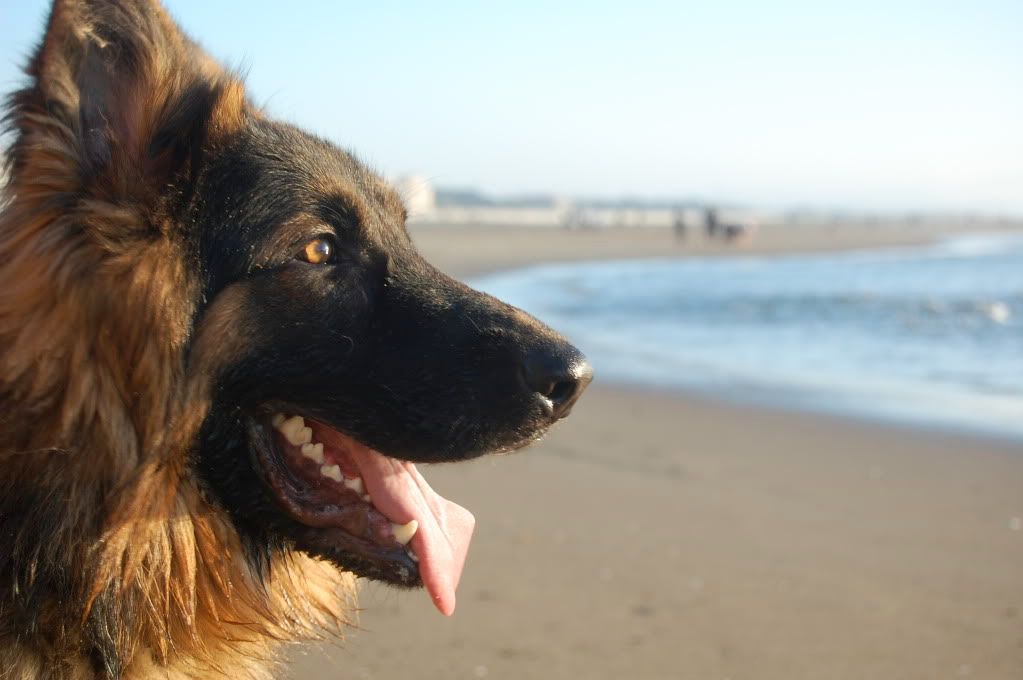 Blitz's first time at Ocean Beach in San Francisco, our 4th anniversary 1/29/09